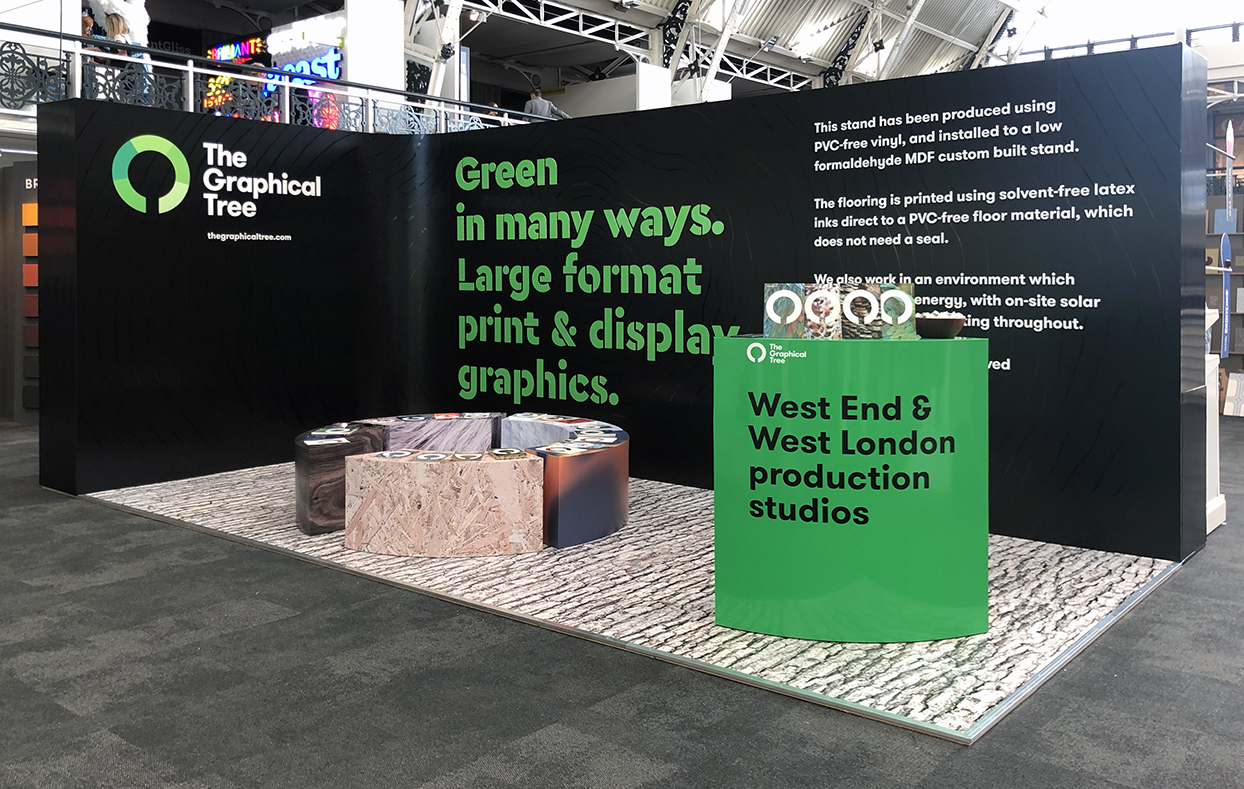 Minimizing our impact on the environment is a responsibility we should all take seriously. Our commitment to eco-friendly, sustainable large format printing and graphics is part of this.
Our production technology has been chosen based on its environmental credentials. Most of our printers use water-based ink which gives us a great platform to start from. Thankfully more and more eco-friendly printing products are being developed and available all the time. This means the cost to produce environmentally friendly graphics from our two London locations is also getting cheaper. It used to be a prohibitive exercise, but thankfully, as the world wises up to the importance of a more sustainable way of living, possibilities for greener materials and substrates are becoming easier to source and use.
The list below covers some of our practices and sample products to help get you thinking. If you have any questions or a project you would like to discuss with us, get in touch. We'd be happy to make an environmentally happy set of graphics for you.
Also, because of our W1 location, we can often use cycle couriers to deliver many of our local jobs to the myriad of retailers and brands we service in Central London. This ability to provide a local service avoids additional carbon emissions associated with long-distance deliveries.
Lastly, if there's a product you're thinking of which isn't mentioned please ask us about it. It's either one we know about and can offer you already, or it's something we'd like to hear about to develop with our suppliers. This is an ongoing, developing part of the large format and display industry, and one we can all contribute to.
We have an obligation to the planet and future generations to be as sustainably forward-thinking as we can be.

By continued R&D, and carefully developing a cohesive suite of materials and print solutions, The Graphical Tree aims to offer significant improvements to the large format print industry, in terms of its impact on the planet.

 
/
Latex inks
Most of our large format print machinery uses latex inks, which is made up of 70% water, making it a greener option than traditional solvent-based ink.
Whereas solvent penetrates into the media, latex sits on top and doesn't react in the same way, which is better for recyclability. Latex is also completely biodegradable, which happens even sooner when exposed to sunlight. Given the right conditions, latex can biodegrade at about the same rate as a leaf from a tree – around six months.
A further benefit of latex ink over solvent is that it doesn't emit hazardous VOCs (Volatile Organic Compounds) – gases or odours what are harmful to the environment. This means latex printing can be performed without any form of ventilation or air extraction and are safer for The Graphical Tree team to produce, and safe to be installed within indoor environments.
Latex inks are also certified by UL Ecologo and UL Greenguard Gold. To find out more about these certifications and why they are important, check out the journal page here.
To read more about latex inks, check out our help guide page for a more in-depth profile.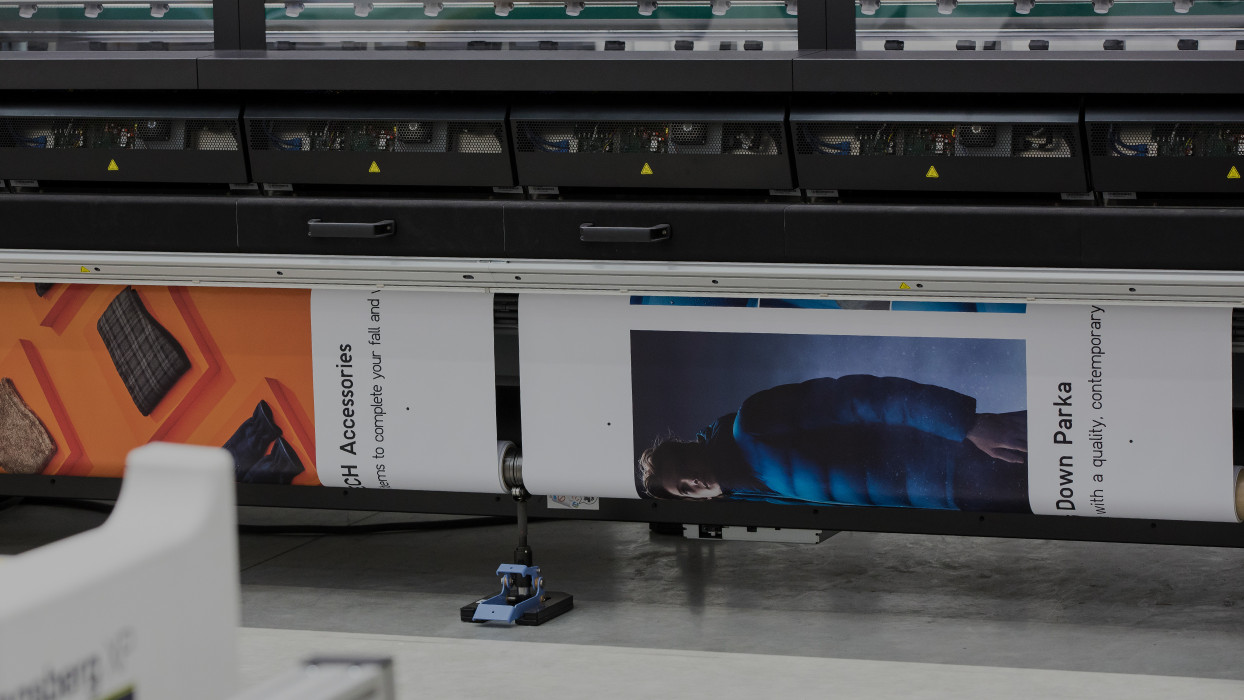 \
Eco-solvent
Our direct-to-media printer ticks as many boxes as we can for eco-printing. The ink used has been given the environmentally friendly Gold Award from Greenguard. It has a less harmful chemical makeup than many other printers in circulation and includes up to 50% naturally-derived monomers and oligomers from renewable resources, such as plant or biomass. The inks also contain virtually no VOC's, heavy metals, SVHC's or greenhouse gases.
Our eco-solvent printers use a LED lamp system for drying the ink, instead of mercury-based cooling. This means we are using up to 82% less energy consumption than other non-comparable solvent machines might. You can read more about eco-solvent printing here.
/
Sustainable boards
We have a range of fully recyclable board materials. Here are a few we use on a regular basis. We're always looking to add to this list too.
\
MDF
While this wood-based product is made from sawdust and, if it is certified, sustainably grown wood, it uses glue to bond its composite pieces. And even though the amount of glue has decreased over the years, meaning it is effectively low formaldehyde, it's still non-recyclable. It is reusable though. It's also possible to use an MDF product called Medite Ecologique with a zero formaldehyde glue called MDI. The benefits of MDI glue are that you need much less of it to bond a board together, 3-5% as opposed to 10-15% for formaldehyde-based glue boards. Secondly, MDI is inert, which means that it does not let off gas and VOC's.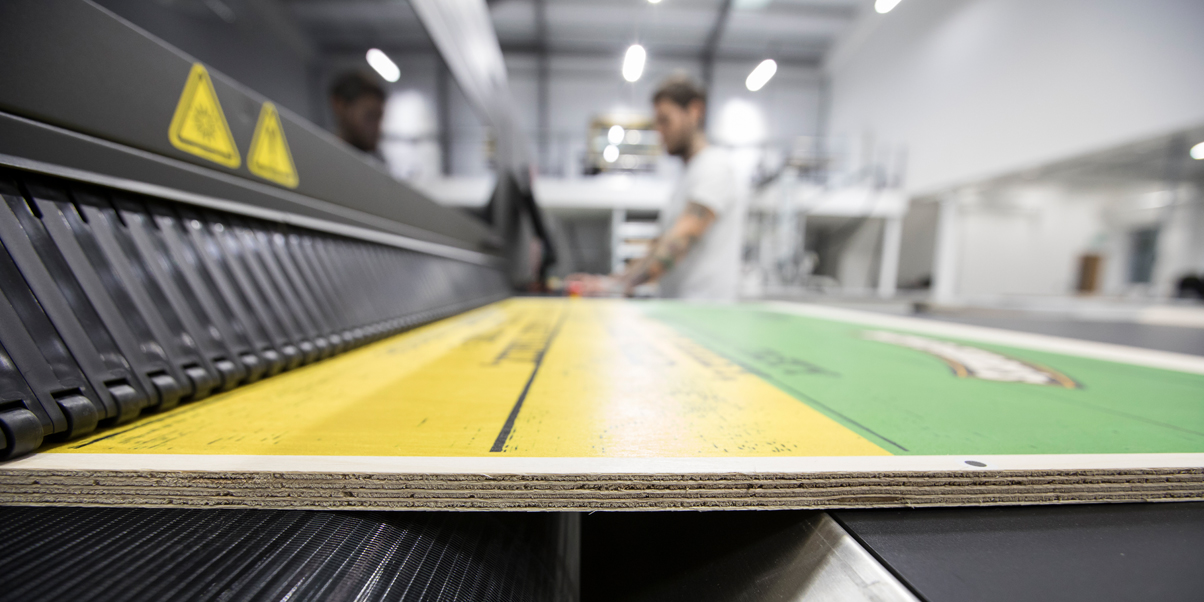 /
Falconboard & Dufaylite
Both these lightweight products are highly sustainable and made from up to 95% recycled card and paper material. So while they aren't easily re-usable, they 100% recyclable – just place with your general recycling paper waste. They're great for large p.o.s. such as display boards and smaller items like boxes and packaging.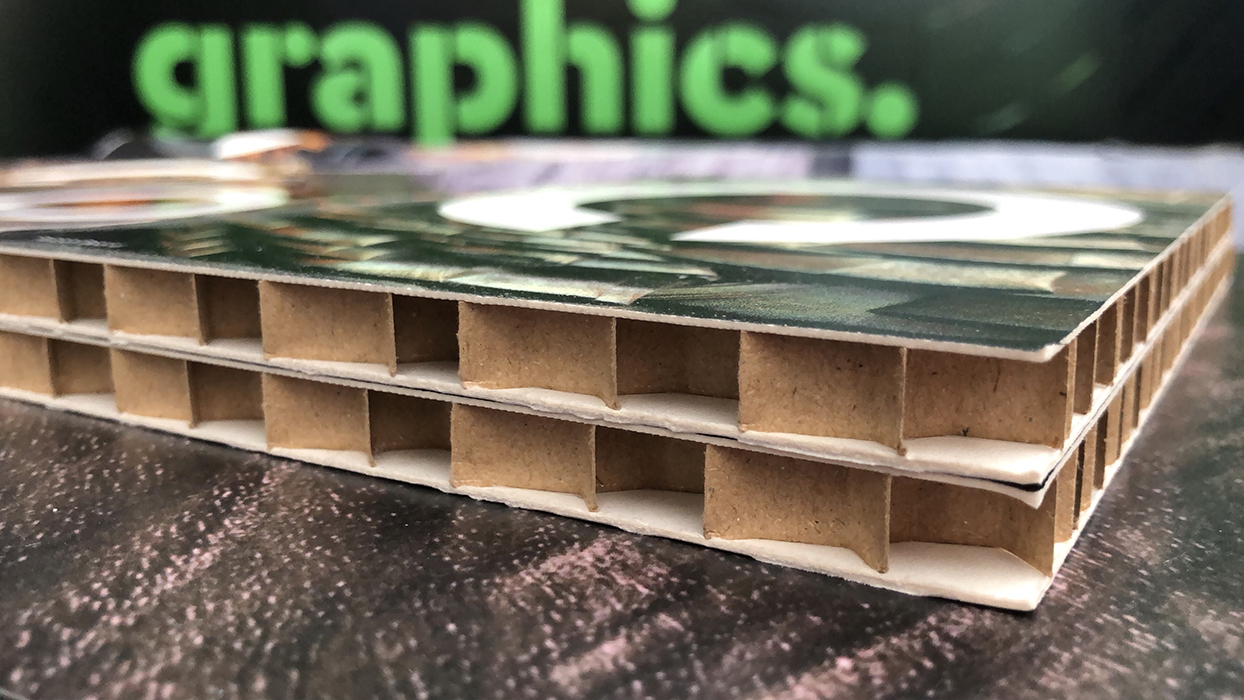 \
Foamex
Foamex is produced from plastic so it's fully waterproof when printing directly to the board or when mounting self-adhesive vinyl prints to the surface. And although Foamex graphics are made of plastic you could reuse them and send it back to us to re-purpose.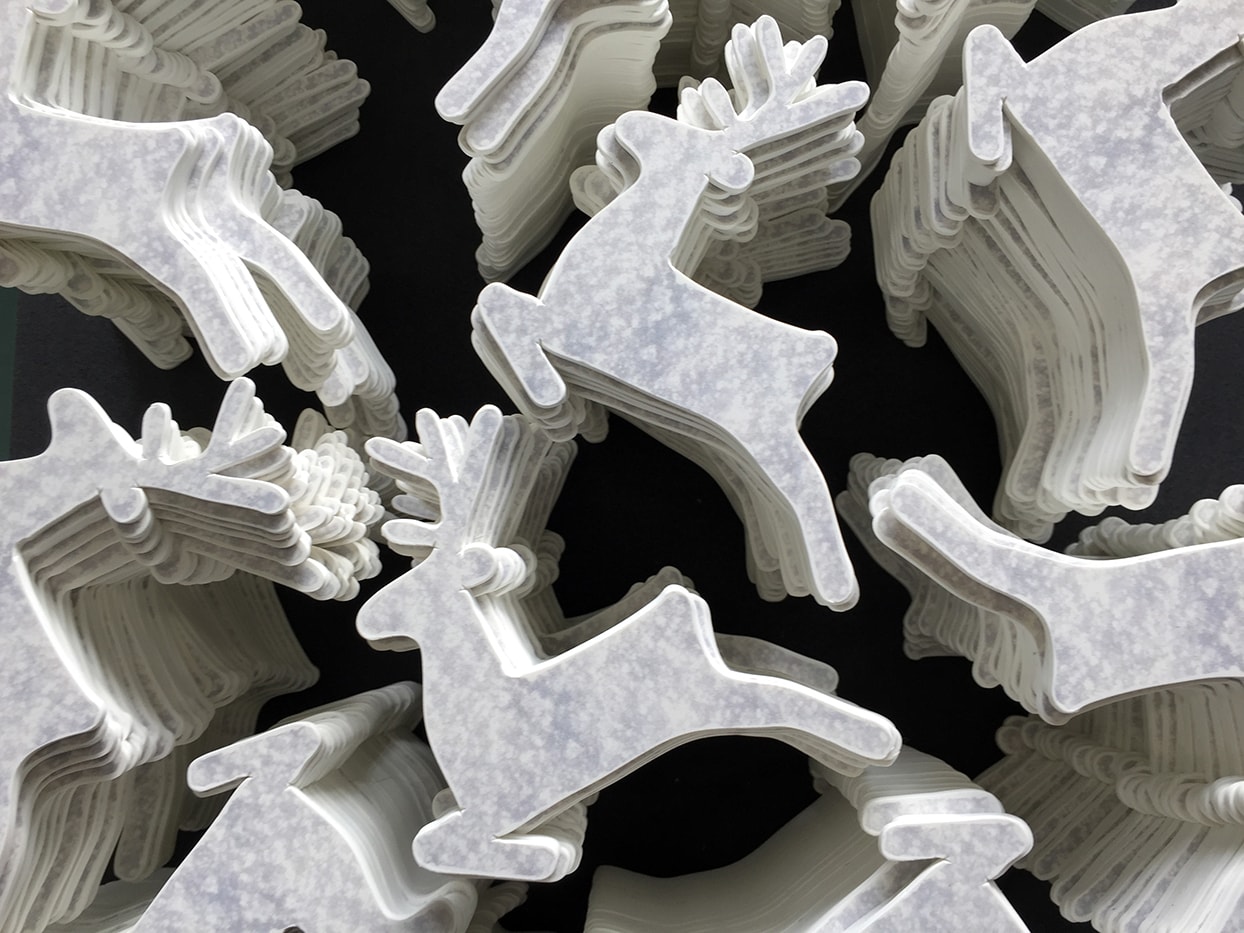 /
Dibond
Used primarily outdoors, i-Bond is an aluminium composite sheet with a 0.3mm aluminium skin, which makes it fully recyclable. It's perfect for hoardings that needs to be hard-wearing. As it's such a strong material there's no reason why we couldn't actually re-use it in the future too.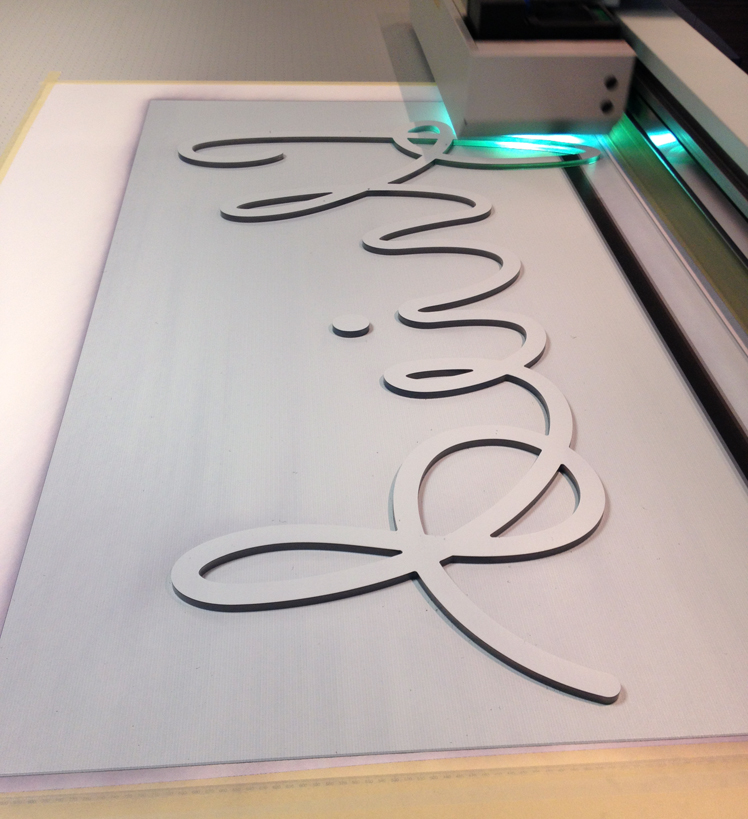 \
Card
While a good old fashioned card is underused, partly due to its durability, it is a sound eco-friendly option. In the right environment, and for the right job, card is a perfect substrate to use for display point of sale – think smaller in size pieces or p.o.s. which is being fixed to a flat supporting surface like a wall.

/
Printable materials
We have an evolving range of PVC-free materials which can be printed on suitable for many applications.
\
Uncoated paper
Not only does this give you a beautiful matte surface, but it's also not reflective, like coated gloss or satin papers. If you're producing presentations or art, think of using an uncoated matte paper stock to show off your words and work effectively. We can print directly to the paper using water-based latex ink which helps to make this a highly recyclable product.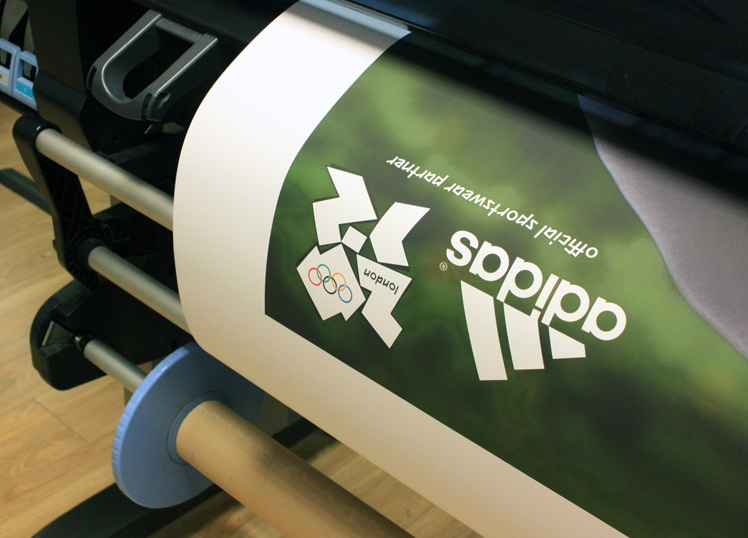 /
PVC-free
We have a variety of PVC-free roll media including recyclable block out vinyl, roll-up stand film, banner and cling materials;
a biodegradable wall 

fabric; floor, magnetic, and wallpaper. Many of these materials are manufactured in the UK and therefore have a low emission delivery rate to us.
With all the products we use, eco is an evolving market and one we're trying our best to put pressure onto our suppliers, so they continue to develop and manufacture as many environmentally friendly substrates as possible.
It's our aim to be able to replace all of our product lists with a viable, great quality eco-alternative product.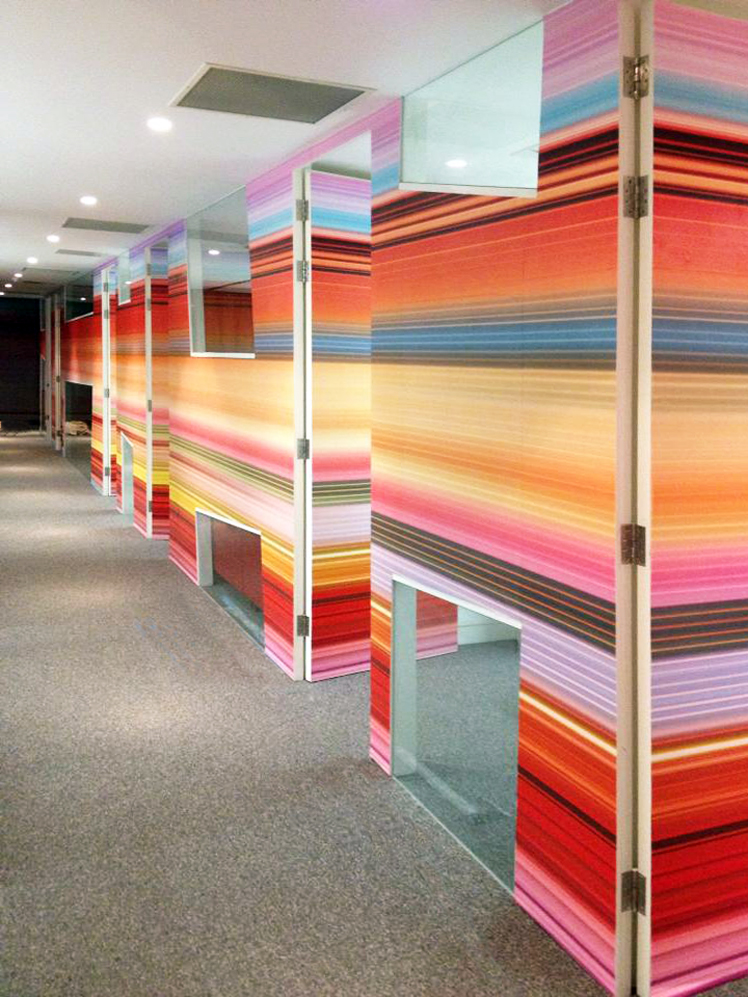 \
Energy use
Our Uxbridge production site has on-site solar power which accounts for a good percentage of our energy use, and over both production locations, we contract a sustainable energy provider. Uxbridge also uses LED lighting throughout. We're planning for our Central London W1 production site to follow suit.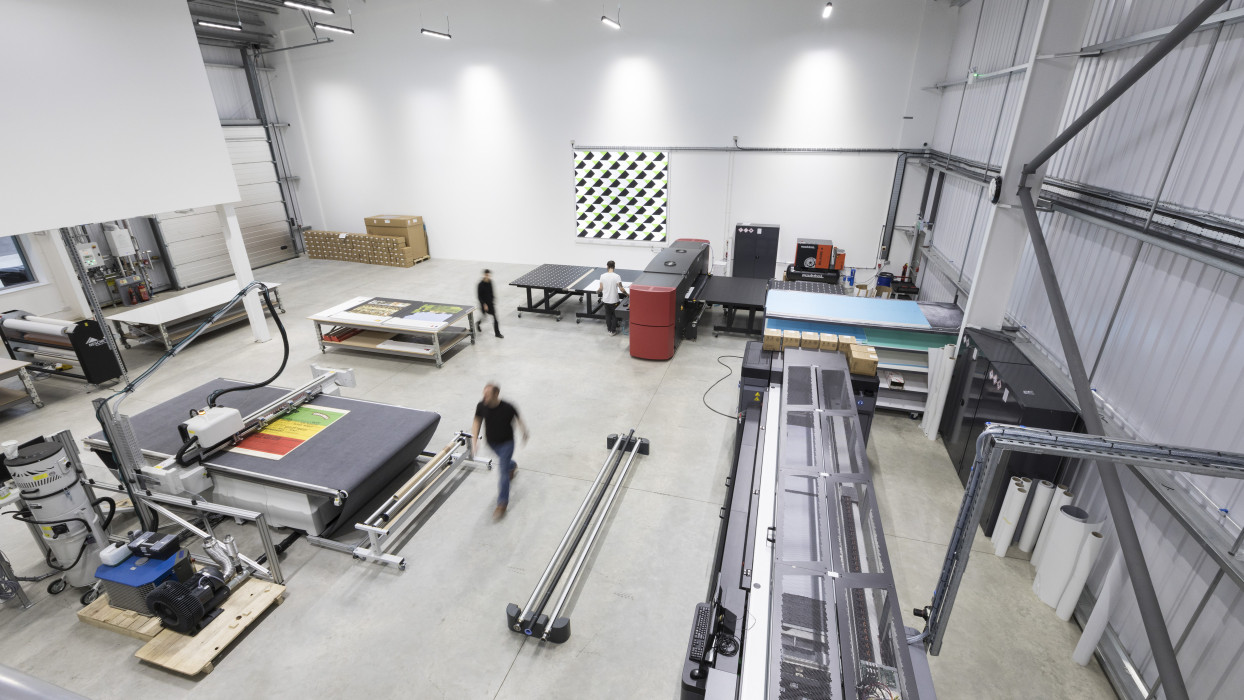 Waste disposal and recycling
In Central London, we use a waste collection supplier called First Mile, which separates and disposes of all waste in the most eco-friendly ways available. This includes burning unrecyclable waste to generate clean energy and collecting food waste for composting, all instead of landfilling.
Our West London site's waste is collected by Hillingdon Council, one of just 74 out of 345 local authorities in England who collect collects dry recyclables.
/
Environmental terms
Below are details of a few useful environmental terms and organisations mentioned in our product list.
/
FSC
The Forest Stewardship Council – The FSC certification is considered the gold standard designation for wood harvested from forests that are responsibly managed, socially beneficial, environmentally conscious, and economically viable.
/
Greenguard
The Greenguard Environmental Institute is an industry-independent organization that aims to protect human health and improve the quality of life by enhancing indoor air quality and reducing people's exposure to chemicals and other pollutants. Only products that meet the UL (Underwriters Laboratories) Environment's stringent emissions standards qualify for certification. These standards are based on established criteria from key public health agencies. Read more here.
\
PET
PolyEthylene Terephthalate is a form of polyester and used to manufacture plastic bottles and containers for packaging foods and beverages, personal care products, and many other consumer products. PET is highly recyclable.
/
PVC
PVC is PolyVinyl Chloride - it's made from fossil fuels including natural gas. The production process also uses sodium chloride. Recycled PVC is broken down into small chips, impurities removed, and the product refined to make pure PVC. It can be recycled roughly seven times and has a lifespan of around 140 years.
\
REACH
T
his is an initiative called Registration, Evaluation, Authorisation and Restriction of Chemicals, which addresses the production and use of chemical substances, and their potential impacts on both human health and the environment.
/
SVHC
Substance of Very High Concern – a chemical substance which has been proposed that its use within the EU is subject to authorisation under the REACH Regulation and the first step in the procedure for authorisation or restriction of the use of a chemical.
\
VOCs
Volatile Organic Compounds are organic chemicals that have a high vapour pressure at ordinary room temperature. VOCs are numerous, varied, and ubiquitous. They include both human-made and naturally occurring chemical compounds. Most scents or odours are of VOCs.