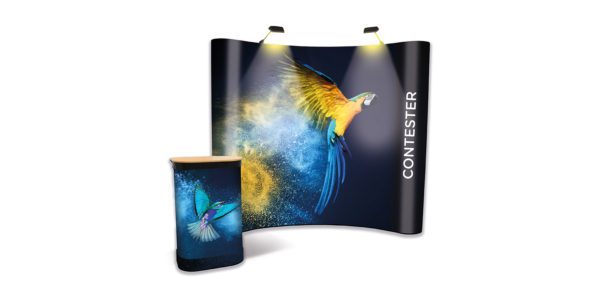 Exhibition stands have to be eye-catching in colour, shape, and size and engaging to make a first impression. Stands are popular for use at exhibitions. Making them portable, easy to install, with useful, engaging display information are all needed. Exhibition stands are particularly great for pop-up stalls in shopping centres, attracting at the point of sale consumers. Also versatile for festivals and events, reception spaces, and other retail environments. Aim to make a positive lasting impression and be seen by your target audience walking by.
Modular exhibition stands
Modular stands are often an easy and cost-effective way to let yourself be known and deliver your message out into the world. They are made up of modular sections that form a structure and display. The Graphical Tree can supply the graphics and print work for the modular sections. to create a high-quality impactful finish to the display.
Shell Schemes
The Shell Scheme is another type of modular exhibition stand. The Graphical Tree can work with the Foamex board, using your chosen artwork, graphics, and print work which are then attached to the installation of the modular exhibition stand. Your other options range from roll-up stands, popup walls, counters, and even A-boards, flag poles, and portable literature holders.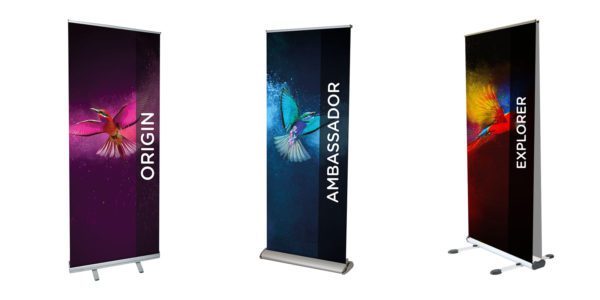 We produce all the printed graphics in-house in Central London, where they are also fitted to the exhibition stands. Our hardware comes from two UK manufacturers and suppliers. That means we can offer our clients the best design and quality exhibition stands in the modular stand marketplace.
Exhibition Stand Design & Ideas
You could be asking: what makes a great exhibition stand? Capturing your target audience's attention will be the most important factor in starting off that first conversation. Consider beautiful artwork that is eye-catching and has an excellent professional print finish. People like to be engaged, with video, interactive elements, and games. Make sure you can be found and remembered. Also, don't forget the amazing lighting. Find out more with our top tips and ideas for exhibition stands. 
Exhibition Stands London
If you would like to speak to us about our range of exhibition stands and graphics, let us know what you're looking for and what the end user will be. We will be able to advise on what we think are the best options for you. Contact us,  The Graphical Tree team to find out more. Check out some of our latest exhibition print-work in London.